Custom Search
My Favorite Strawberry Smoothie Recipes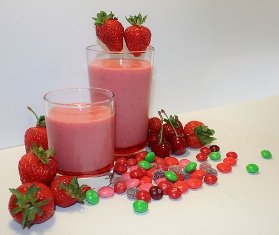 By now you know that I love all desserts with strawberries. But one of my favorites is definitely the delightful strawberry smoothie.
When looking around for strawberry recipes you can find the terms smoothie and shake used more or less as synonyms.
Well, I DO think there is a difference. So here is my definition, that hopefully will make it easier to find YOUR favorite strawberry dessert recipe on this site.
Smoothie: A yummy drink with fresh fruits, milk and ice cream.
(Off course you can also use frozen fruits, but the smoothies definitely taste best with fresh fruits, but more on this later...)
Shake: A drink with fresh fruits and milk.
You want to have heavenly ice cream with your strawberry drink? Then search the strawberry smoothie recipes.
Or you are more calorie concerned and want your strawberry drink without ice cream? Just skip over to the Strawberry Shakes
Once you get all of your ingredients ready to start blending your strawberry smoothie you need the best blender for the job. Find out about the best blender on the market for healthy strawberry smoothies.

And if you're an ice cream lover, you might want to have a look at the history of ice cream before going into the strawberry smoothie recipes.
Chocolate, Strawberry, and Vanilla
is a funny and informative book about the complete history of American ice cream.
A real treat!
Now on to the Smoothie Recipes
Vegan Smoothies with Apples and Strawberries
Easy Strawberry Smoothie Recipe
Strawberry Yogurt Smoothie with Vanilla Ice Cream
Return from Strawberry Smoothies and Shakes to Strawberry Recipes