Custom Search
Stuffed Pumpkin with Strawberries
Ok, you might find a stuffed pumpkin recipe quite unusual, but I assure you'll love it!
Off course, it will be a perfect recipe for Halloween, but will also do any other time of the year.
Personally I love pumpkins and especially as soup. But as you already know, we like to experiment a lot and mix ingredients together that at first sight don't match at all.

This recipe is one of my husbands new creations. Being fed up with strawberry smoothies (he's not so much into them like me), and me begging him at the same time to make pumpkin soup, he decided to go "all in" and mix my two favorite fruits.
I guess he didn't expect it to taste that good! But judge for yourself.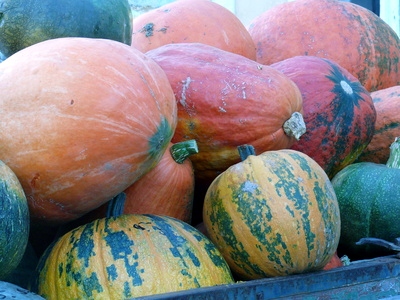 The stuffed pumpkin recipe works best with Hokkaido, but you can use any pumpkin you like. There are dozens of varieties and each one tastes a little bit different. I'm sure you'll soon find your personal favorite :-)
Ingredients

medium sized hokkaido pumpkin
2 apples
1/2 cup (125 g) pineapple chunks
1/2 cup (125 g) strawberries
1/2 cup (125 g) walnuts
1 teaspoon ground cinnamon
1/2 teaspoon ground nutmeg
1/4 teaspoon ground cloves
Directions

Cut the top off the hokkaido and remove the seeds.
Place pumpkin with cut side down in a baking pan. Bake at 350° F (175° C) for 40 minutes or until soft.
Scrape out the cooked pumpkin, and put into a bowl.
Put apples into a blender until chunky. Quarter strawberries and walnuts. Add all ingredients into bowl with pumpkin pulp and mix thoroughly.
Spoon mixture into the shell. Cover with the top.
Bake in the oven at 400°F (200°C) for 45 minutes or until the filling is hot.
Enjoy!
Serves: 4
Nutritional Information
per serving
125 calories
18g carbohydrate
3g protein
5g fat
3 mg sodium
376 mg potassium
0 cholesterol