Custom Search
Strawberry Santas Recipe

Strawberry Santas are the perfect recipe to combine your favorite fruit and your favorite holiday :-)

You may think that strawberries during Christmas time in December are rather unusual and I agree, they are. At least they were up until a few years ago. Here in the Northern hemisphere, that is.
But due to green houses and public demand you can now buy them almost year around and definitely during Christmas time.
Just one word of warning though: the fruits usually don't taste as well as the sun-ripened red berries you can get in June and July. But this is a small price to pay for savoring those delicious temptations, don't you think?
Ingredients:
20 large fresh strawberries (you cannot used frozen ones, as they won't stay firm)
1/2 cup (125ml) whipping cream
1 teaspoon vanilla extract
2 tablespoons powdered sugar
1 tablespoon sugar (optional)
chocolate sprinkles
How to Make Strawberry Santas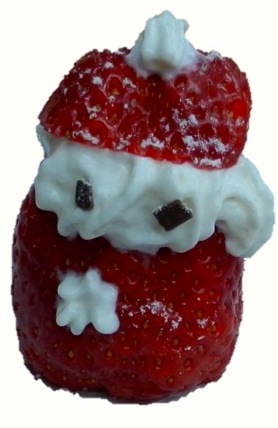 Whip the cream with vanilla extract to form firm peaks. Refrigerate. Warning: the whipped cream has to be very stiff, otherwise, it'll "run away" when putting the hat on. Do not use store-bought ready-made whipped cream in an aerosol can. It won't work.
Hull, wash and dry strawberries. Cut the hull generously, so the Santa will stand up.

Cut the heads off to make the hats, about one third of the whole fruit.
Put whipped cream into a piping bag and pipe it neatly onto the Santa body

Now put hats on top of the cream and push down slightly.
Use piping bag again to make little buttons on the body and one on top of the hat
Gently press chocolate sprinkles into the cream face to make eyes
Dust Santas and plate with powdered sugar to imitate snow.

Refrigerate until serving.
Makes 20 servings
This is a rather time-consuming recipe and it will take about 30 minutes for 20 Santas. The first one or two took me virtually hours, but once you get a bit of routine, the speed starts to pick up.
I like to use a reusable piping bag with different tips for cake decorating like in the picture to the right. In my opinion they produce much better results than the disposable ones and are more environment-friendly.

These little goodies will make a great impression on friends and family and especially kids. Enjoy!
Return from Strawberry Santas to more Sweet Temptations