Custom Search
Strawberry Daiquiri
The Strawberry Daiquiri is my favorite alcoholic cocktail. It tastes so light, sweet and refreshing.
Just the right mixture after a long day of work when you're in a bar with your friends to enjoy, talk, relax or dance and have fun!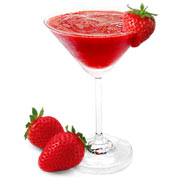 Of course, you can also make it at home. It's very easy if you have at least some basic knowledge in making cocktails (and I mean very basic!).
The one thing I especially like about this cocktail, apart from being sweet, is that it looks so nice. If you serve them as an aperitif, the bright and shining red is an attraction in itself.
Garnished with some whole strawberries it'll make you the queen of the party.

Strawberry Daiquiri Recipe
There are many different variations of Daiquiri recipes. All of them are made with white rum, but only the "original" ones use triple sec as well.
Ingredients
- 2 oz White Rum
- 1 oz Lime Juice
- 1/2 oz Triple Sec
- 1/2 teaspoon Powdered Sugar
- 1 cup Ice
- 5 Strawberries (fresh or frozen)

Serves 2
Directions
Pour all ingredients in a blender and blend at high speed for about 1/2minute. Strain into a Martini (cocktail) glass and decorate with a strawberry. Serve with a straw.
Instead of mixing all the ingredients yourself, you can use a ready-to make syrup.
---
Banana Strawberry Peach Daiquiri
Admitted, this is very exotic and it doesn't look as nice, because the color is somehow "muddy". I was quite skeptic before trying it, but it IS delicious.
If you are up for something new, don't miss this recipe.
Ingredients
2 oz Dark Rum
1 oz Lime Juice
2 tablespoons Cointreau
2 cups Ice
5 Strawberries (fresh or frozen)
1 ripe Banana, sliced
4 wedges Peach (fresh or frozen)

Serves 2
Use the same directions as above and enjoy your exotic drink!
I can't tell you often enough how important it is to use only high-quality ingredients for your strawberry recipes.
Not only the taste of the recipes will be much better with high-quality ingredients, but you could actually endanger your health using bad quality. Especially with alcohol.
Please always buy your rum, tequila, etc. from licensed dealers and never on the street from some sleezy figures!