Custom Search
Strawberry Cupcakes
by Cupcakes Plain and Fancy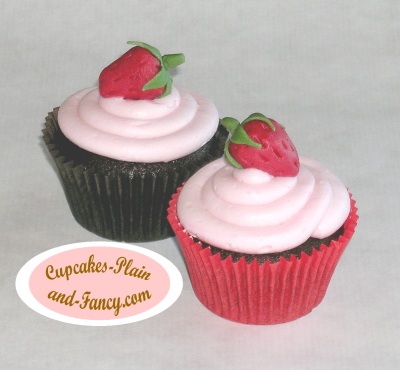 Bakery/Cake Goods needed:


Your favorite batch of chocolate cupcakes


Your favorite butter cream frosting recipe tinted pink
Strawberry Decorating Supplies:
Pre-made red candy clay or red fondant
(see recipe below)


Oil-based candy flavoring in strawberry


Small pre-made batch of fondant tinted green
(we used Wilton's Ready-To-Use Rolled Fondant and Wilton's paste food color in Moss Green)


Calyx cutter


Tooth pick


Wax Paper


Rolling Pin


Food-safe paint brush
Cupcake Icing Tools:


Ateco #804 Round Icing Tip


Icing Bags and couplers
Finishing Touches:


Brown or Red Cupcake Liners
Directions for making the strawberries:
Step 1:
Break off a small amount of red candy clay. Shape ball into a "strawberry" keeping one end large and round and forming a gentle tip at the end.
Step 2:
With toothpick make impressions into the candy to create seed texture. Set aside.
Step 3:
Roll out the green fondant. With the calyx cutter, cut shapes from fondant. Attach to large base of strawberry shape by painting the strawberry with water and attaching the calyx. Roll a small amount of green fondant between your fingers to form a stem. Attach to the middle of the calyx. Set aside on wax paper to harden.
Directions for Icing the Cupcake:
Step 1:
Place one drop of strawbery oil into the butter cream to flavor it. Fill an icing bag with pink butter cream and fit the opening with the #804. In a swirling circle motion, pipe out icing to cover the cupcake.
Step 2:
Gently place the strawberry on top of each cupcake. Vary the number and location to suit your taste.