Custom Search
Fresh Strawberries
You can never have enough fresh strawberries !
If you need a recipe to impress your guests, these marinated strawberries will do the trick.
[an error occurred while processing this directive]
Even Star Gourmet Chefs have identified the benefits of those wonderful little red berries.
Below you will find a recipe from famous German chef Alfons Schuhbeck.
He consistently appears on television, has written several cookbooks, and owns various acclaimed restaurants.
Furthermore he has earned himself one star from the Guide Michelin and 17 points (out of 20) from Gault Millaut. (Those are the two most important restaurant critics in Europe).

His most popular one My Bavarian Cookbook has been translated into English.

By the way, he recommends using only local grown fresh fruits, because they are much tastier and more aromatic than the imported ones.
Another reason to visit a Strawberry Farm to pick your own, or growing strawberries in your garden.
Marinated Fresh Strawberries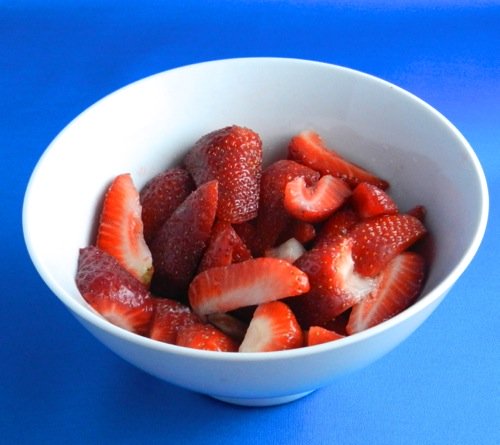 Ingredients
2 cups strawberries

3 tablespoons sugar

3 tablespoons lemon juice

2 tablespoons orange liqueur

Directions
Cut the strawberries into quarters and sprinkle them with sugar. Leave for a couple of minutes before sprinkling with lemon juice and orange liqueur.
This is an adults-only recipe, because of the orange liqueur.
Off course you can just omit the liqueur, but this is the one ingredient that makes the recipe spectacular.

Serve in cocktail glasses.

Extra Tip: Add spearmint leaves for garnish and a refreshing taste.
The marinated strawberries taste best at room temperature.
This is one of the recipes I make when we have guest over for a nice dinner. Usually everyone is too full to eat a heavy dessert, but those marinated strawberries always make an impression :-)
And they don't take long to prepare. A few minutes and you're done. 
One more thing: the photo doesn't make the recipe justice. I just couldn't find a place where to make a decent picture.