The Ezine For Every Strawberry Lover!
---
July 16, 2014

Issue #85
---
Hello,

Sorry for not sending this newsletter in such a long time.

I do have a wonderful reason, though: In May our little girl was born. :-)

I sincerely didn't remember how exhausting a newborn baby is. Sleep,drink, cry, sleep, drink, cry ... sleeping mainly at day (not necessarily at night) and often in from of 15 minute naps.

Even though I'm really, really happy about our little Charlotte, I'm also very, very tired and don't get much work done.

You probably can relate :-)

Anyhow, "Carpe Diem", seize the time when she's peacefully asleep and I'll try to get out this newsletter as fast as possible.

For inspiration, follow our Pinterest Boards
---
Strawberry Smoothies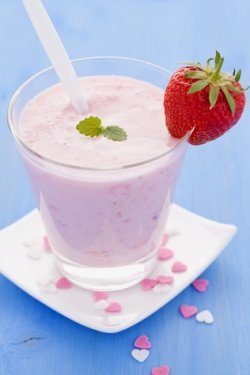 Smoothies are the perfect breakfast and snack recipes. I have come to love them even more since my little baby was born. You can prepare them one-handed, make a big supply and sip throughout the day.
My son loves them, too. He always insists to put ice cubes, because he loves the crushing sound the blender makes when mixing the ice cubes.
My son and I can easily do without adding sugar, especially when using over-ripe bananas for the recipe.
Try and find out what you like best.
Strawberry Smoothies and Shakes
---
***Advertisement***
The EASIEST Diet Ever (Start this on Monday)
Hey, Coach Josh here and if you're anything like me, you probably enjoyed a few extra dietary indulgences this weekend. No big deal as starting Monday I'll be following the below PROVEN, simple, and extremely effective diet plan to get me back on track and burn some serious flab this week!
Want to join me? I outline the entire diet, step-by-step, at the link below...and trust me, it's probably the EASIEST diet in the world to follow because I like to keep things brain-dead simple.
The EASIEST Diet Ever (Start this on Monday)
---
If a friend forwarded this e-zine to you and if you like what you read, please subscribe by visiting:


http://www.strawberry-recipes.com/subscribe
---
Comments? Ideas? Feedback? Recipes you want publish? Please tell me. I'd love to hear from you. Just reply to this e-zine and tell me what you think!

Marion