The Ezine For Every Strawberry Lover!
---
January 22, 2014

Issue #82
---
Hello,

Sorry for not sending a newsletter in December. There was just too much going on. Baking cookies, making Christmas decorations, Christmas parties etc.

Now we're already 3 weeks into 2014 and I hope you had a fantastic start and are still going strong with your New Year's resolutions :-)

Only three more weeks to go and we're at Valentine's Day! This is the perfect time to start preparing a romantic dinner and special gifts for your loved ones.
---
Romantic Valentine's Gift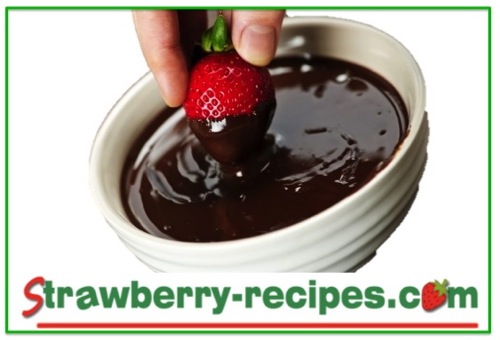 This is one of the easiest recipes for chocolate covered strawberries and you don't have to be a pro to make them.
But I would advise you to practice a first batch for yourself (also because they're sooooo yummy). The second batch will look even better and makes perfect giveaways.
Chocolate Covered Strawberry Recipe
If you don't have the time to make those goodies yourself or you need a really fantastic and luxuriously looking gift (hint: show this to your husband so he knows what you want), then the wonderful Strawberry Roses by Shari's Berries are an excellent choice.
Just see the picture below, aren't they truly fantastic?
---
Essential Guide to Crepes
The Ebook Essential Guide to Crepes by Ashley Memory is probably the best book on How to Make Crepes.
Apart from giving detailed step-by-step instructions with photos on how to make world class crepes, it gives you ideas and strategies for throwing an unforgettable crepe party that will give you lasting fame amongst your friends, and some of the best-kept secret crepe recipes that you won't find anywhere else on the internet or offline.
Don't hesitate and grab your copy of the Essential Guide to Crepes now. You won't regret it!
---
Get inspired by these fantastic Chocolate Covered Strawberry Recipes. I'm sure you'll find some you love!
Chocolate Dipped Strawberries Board on Pinterest
By the way, I'm in the process to changing this newsletter over to a new provider. There's nothing you have to do!
The next issue will be sent with the new service and hopefully it'll look a lot nicer :-)
Have a nice day!
Marion
---
If a friend forwarded this e-zine to you and if you like what you read, please subscribe by visiting:


http://www.strawberry-recipes.com/subscribe
---
Comments? Ideas? Feedback? Recipes you want publish? Please tell me. I'd love to hear from you. Just reply to this e-zine and tell me what you think!

Marion