The Ezine For Every Strawberry Lover!
---
May 28, 2013

Issue #78
---
Hello,

Can you imagine, that it's been snowing over here ?!

Not exactly where I live, but in the nearby Bavarian Alps. Snow line has been pushed down until 700 m NN (aprox. 2100 ft NN).

I just heard in the radio news, that many cars going to Italy during spring break got stuck on the Autobahn, because they didn't have winter tires.

Well, would you drive with snow tires when you're supposed to go for summer vacation?

Due to the harsh winter local strawberries still aren't ripe and we have to live on imported ones....
---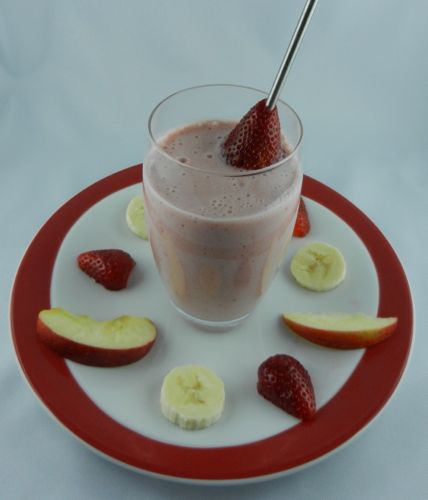 Strawberry Apple Smoothie
I had some leftover strawberries from the day before, that needed urgent processing (you might not believe the part of the leftover, but it is true!).
First thing that came to my mind was a shake, because I just love them and they're not much work. 5 minutes preparation time max.
As I didn't have enough berries to make a strawberry smoothie recipe without any other fruits, I needed to get creative. And milk was out as well. What to do?
Proudly presenting you my new vegan smoothie recipe with apples and strawberries:
Ingredients
1 banana 2 small apples 1 cup fresh stawberries 1/2 cup ice cubes (optional) 1 cup water or almond milk
Serves 2
Directions
Peel banana and cut into chunks.
Cut apples into pieces. If you want you can peel the apples. I don't do that, because the peel holds most of the vitamins and nutrients (and I'm too lazy). But you have to cut out the core, otherwise the seeds will make your shake taste bitter.
Put everything in a blender. Blend until smooth. If needed you can add sugar, but the banana and apple usually give enough sweetness.
Pour into a long drink glass and enjoy!
Find more of my newly created strawberry smoothies
---
Advertisement

The Healthiest, Most Delicious High Protein Cookie EVER Created!

These Chocolate chip protein cookies are the perfect filling and sweet addition to your strawberries. Yummy!
---
Last month I told you that I'm now a proud owner of several berry plants. Most of them are doing really well and we will have a very modest harvest already this year.

Unfortunately one of the plants (a red currant) has gotten a fungal infection. My gardener friend is on vacation, so I'm kind of clueless now.

Any ideas what to do? We have a small child and I absolutely don't want any pesticides in my garden. Do I have to throw away the plant and replace with a new one? Or is there any natural cure?

I'd appreciate any thoughts and ideas!

Have a nice day!

Marion
---
If a friend forwarded this e-zine to you and if you like what you read, please subscribe by visiting:


http://www.strawberry-recipes.com/subscribe
---
Comments? Ideas? Feedback? Recipes you want publish? Please tell me. I'd love to hear from you. Just reply to this e-zine and tell me what you think!

Marion